Elizabeth of Austria is re-examined, reviewed and re-confirmed as the woman of the century. Tuveri's reflections open new critical perspectives on a much loved personality. He rediscovers and develops the figure of a woman who was able, through chance and will power, to make herself immortal.
Eine Möve von keinem Land
Matteo Tuveri
"She walks in beauty, like the night"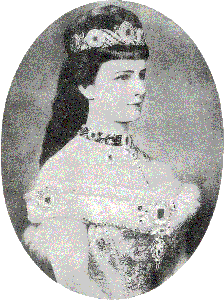 (Lord Byron)
Elisabeth Amalie Eugenie of the House of Wittelsbach was born in Munich on 24th December 1837, the daughter of Maximilian, Duke in Bavaria and Princess Ludovika of Bavaria. The Dukes in Bavaria were separated from the Dukes or King of Bavaria not only by two or three generations, but also by the fact that Duke Max's family then had little political power. Elisabeth's family, consisting of the couple's children and many illegitimate children the Duke had by other women, lived in the little castle of Possehnofen, on the banks of Lake Starnberg. Possenhofen housed an extended, unconventional family which regarded the reigning Wittelsbach's with suspicion. They were viewed as the rich relatives in Munich who were a bit complicated. However, this family unit managed to create for itself a closeness and independence from the conventions of the century which gave Lisi (her father's pet name for her) a strong sense of ancestral belonging.
On 24th April 1854 Elisabeth, then only seventeen, married her cousin Franz Joseph, who had been Emperor of Austria since the age of eighteen. In this oppressive atmosphere, Elisabeth quickly made clear her impatience with the surroundings and the role imposed on her by society as a member of on of the world's oldest royal courts. Isolated from political events by a dull and conventional camarilla, she was obliged to keep up appearances while, at the same time, being expected to be sensitive to political and diplomatic issues during long audiences with courtiers. Towards these people, Sissi (as her husband sometimes called her) feigned rejection by making up poems imbued with a "geniale Narrenstreich".
Ich aber, web' euch Kappen

Und näh' auch Schellen dran;

Als narren geht ihr dan herum

I have woven some caps for you

And decided to put bells on the top;

That way you can go around like buffoons
Sofia - her aunt and mother-in-law, Franz Joseph's mother and Ludovika's sister - a strong and intrusive woman, busied herself to no good effect with her niece's education. Nevertheless, this maternal interference was not the only cause of the failure of Sissi and Franz Joseph's relationship: their characters were incompatible. She, with scant education, argumentative, frigid, touchy, a beautiful creature – as King Albert II of Belgium said of her – loved to aimlessly climb mountains and sail the seas, never settling down for a moment. He was ever the respectful gentleman, with little interest in metaphysics; he had problems relating to people and yearned for "a normal life".
In dedicating the following lines to her husband, she describes their love as a cadaver, but their mutual respect as a garland of fresh flowers («Ja, immergrun ist diese Kranz»)
Unserer Liebe starre Leiche

Kamst du wieder zu beschau'n;

Our love's stiff cadaver

You've seen it again;
Right from the birth of her first child, Elisabeth showed little interest in her children. She never felt the maternal instinct commonly attributed to women. And what should come into her mind but a sudden awakening of a de Beauvoirian ritual "love at first sight"?
Following the suicide of her son, Rodolfo, who was so similar to her, Elisabeth felt a sense of guilt hanging over her. So she engaged in a series of long, exhausting trips and impossible, arduous climbs. She was a superwoman in a poor state of health, she strode through life with reptilian cynicism, erecting white castles, monuments to nothing of her time, which is still ours; only to find herself in front of the beer of Franziskaner or a hot milk in a refuge in Cadore. Like a Francesco de Pinedo in skirts, dressed in black and wearing no jewellery, she would plough through the seas of Trieste, Dalmatia and Greece aboard her cutter. Then, afflicted by a mania for motorbikes, attacks of bulimia and anorexia, she ordered strudel, eggs and cake on the terrace of the Miramare in Trieste; and then lived on nothing but Homer and Sappho on the patio of the Akilleion in Corfu. On 10th September 1898, while visiting Geneva, she died by chance, at the hands of Luigi Luccheni, the victim of a bungled knife attack.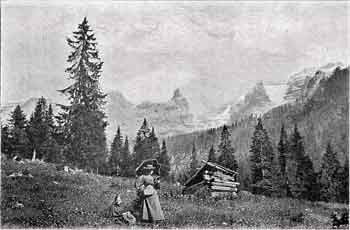 She was stabbed by a thin and unassuming weapon which, entering her heart, let her life slip away through the pericardial membrane and onto the black pall of her dress. Walking through her own beautiful legend, she surpassed in death the anxious and exhausting journeys over the highest peaks and, crossing over the line separating history from myth, traced numberless paths in literature and the media: the image of the wife-mother girl, the "Princess Sissi" played by Romy Schneider in Ernst Marischka's film and about 28 films, ranging from the musical "Elisabeth", made in Austria with the musical genius of Kunze and Levay and put on in Japan by the Takarazuka Women's Theatre, by four all-Italian monsters, by a four-act chamber operetta called "The Rose of Corfu" and by a cartoon. Her image has run through literature, spanning D'Annunzio, Berta von Suttner's memoirs and Cioran's philosophy. The latter had no hesitation in calling her the high point of melancholy, along with Brahms. Cultural iconicism, child of Sartori's Homo videns , has taken her figure elsewhere instead, creating a watered down and eccentric image of a pale, charming woman, a piece for the drawing room. Such rewriting has resulted in real historical violence being done to Elisabeth, quite in line with Simone de Beauvoir's theory of "Presence-Absence" , which she explained in "The Second Sex". As we have already noted, being historically present - for a woman - has taken the form in history of a manipulation along lines thought up by men. Every female figure has been replaced by images of the female that are harmonious and pleasing, which have emptied the history of the historical memory itself. We therefore end up with an Elisabeth, now Sissi, who never existed: a Sissi who is a litmus test for a deformed and violated image: an image which has long hidden a unique person who lived out her own personal and historical authenticity with beauty. In 1951 we were unexpectedly given the chance of interpreting and reassessing the historical figure of Elisabeth von Österreich. It was then that the President of the Helvetic Confederation received a sealed envelope containing the Empress's Poetical Diary. From these three collections of poems, inspired by "Heine's poetics of disenchantment" , and published for the first time in the book "Angled Mirrors. The Poetical Diary of Elisabeth of Austria", emerges a writer of indirect semantics:
Ein Unergründlich tiefer See
Ist meine Seele,

Den ich oft selber nicht versteh

An endless lake
Is my soul:

I see no end to it