The awareness of the present and contemporary art
Events at the Civic Gallery, Trento
Eva Lavinia Maffei
Not far from the Cathedral, half way down via Belenzani, there is one of the most lively, happening places in the city. For years the Civic Gallery of Modern and Contemporary Art has carried out enlightened artistic research involving the whole community, even going into the area where everyday life is played out. There have been exhibitions, installations, performances and workshops in abandoned factories, antique palazzi, train stations, hotels, squares and parks. Contemporary art is communication without borders or taboos. Unlike mass-media communication, an artistic event is sporadic and often slips into public life unannounced - pure and sharp - finding fertile terrain to stimulate a new world vision, individual reflection and collective debate.
The event makes visible that which was invisible - concepts such as friendship, madness, love, hate, fear. It puts mental facts on view by transforming them into sound, object or action - that is to say, it creates communication.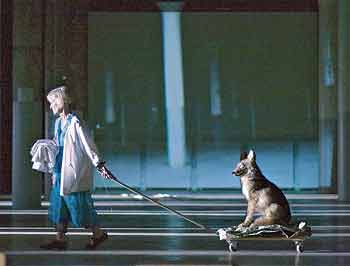 In actual fact, contemporary art does not merely reflect but also anticipates great changes in all spheres of our society. As Director Fabio Cavallucci maintains, the artist is like an animal with long antenna: he doesn't know everything, he doesn't understand everything, maybe we don't even completely understand him, but the fact that he moves in an intuitive dimension based on images and other means and forms of perception allows him to pick up on the big changes in society. This is the fundamental feature of art in all eras.
In this vision, in agreement with the interpretations of Herbert Marshall McLuhan, the artist is, as is the cultured man, the poet and the musician, he who has the task of reformatting a perceptive, social and general cultural model for Society at the very time when changes are taking place. Thus it is clear that today, in the face of enormous technological changes, art and artists are even more capable of and indeed tasked with guessing where we are going and reformulating our mind set.

Their intuition will in time be judged by history.
So the artist moves freely and sometimes touches on topics that are taboo for some part of Society. Provocative, not because he tries to provoke but because he aims to change our coded system: his is the perception of a new system and he takes a further, even if miniscule, evolutionary step in human thought.The feeling of eternity in the essence of art, the contemporary course and the continual following on of breakthroughs and avant-gardes are a game of reciprocal stimuli for artists and curators that keeps the acute dimension of world understanding alive. It is the foundation from which a new, inspired artistic vision or a big idea for the next hit event is bound to spring.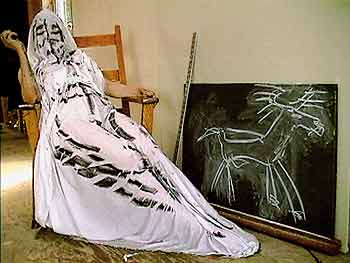 The new season at the Galleria Civica begins with a Joan Jonas one-man exhibition. Curated by Anna Daneri, Cristina Natalicchio and Roberto Pinto, the exhibition runs from 23rd November until March 2008. Over the same period a Gillian Wearing monument will be in place in piazza Dante, entitled "Family Monument", it is the fruit of months of statistical and human research and is dedicated to the typical trentino family.
For those who enjoy visiting exhibitons, we also suggest the galleria Arte Boccanera Contemporanea in via Milano, directed by Giorgia Lucchi. It is hosting a one-man exhibition by Michele Lombardelli (catalogue by Alfredo Sigolo). The exhibition is entitled "Not Now" and will be on show until 29th March 2008. Among the major prestigious events of 2008 the one hundred days of the "Manifesta7", the European biennial, is particularly noteworthy. The event takes place in the Trento and Bolzano provinces and offers young artists from many countries the chance to experiment the modern with new ideas and forms, start a constructive dialogue and cultivate a discussion forum on contemporary art.